Our History
Established in 1985, this local, volunteer non-profit group is dedicated to providing entertainment as its Community Service. Founded by a professional vaudevillian who wished to preserve musical comedy style entertainment through live performance, the group is now directed by Annette Marsh. She not only trains the dance line of tap dancers, but also enlists, promotes and presents many talented dancers, singers, and musicians in musical variety type shows featuring music from the 1900's – 1960's.
In July 1989, this group became a non-profit 501(c)(3) tax-exempt organization. Presently, it is governed by Board of 10 volunteer Directors.
The performers of this organization are all volunteers, some who have full-time jobs, but take time to entertain at Nursing Homes, Senior Citizen Centers, Retirement Centers, Churches and Art Theatres throughout the Metroplex.
As well as many community facilities, we have performed at the Scott Theater and Bass Hall in Fort Worth, Palace Theater in Grapevine and Hurst Conference Center.
As a family oriented group, there is no age restriction on its members. Performers have ranged in age from 3 years old to 80+ and are dedicated to providing "fun" entertainment for all ages.
in 2011 the group began an annual event, "Salute to Our Veterans", to honor veterans and educate the public regarding veterans heroic deeds.  This event is FREE to the public and is held each year on Veterans Day, November 11.  Veterans from WWII, Korea, Vietnam, Iraq, and other current conflicts are available with displays.  The public can talk with each veteran, ask questions hear their stories.  There is a USO musical variety show that includes a special section dedicated to honoring all veterans and their branch of service.  There is a display of authentic memorabilia set up the the  Military Museum of Fort Worth.  An evening event includes a live band with dancing and listening music of the big band era and other standards.
---
Our Director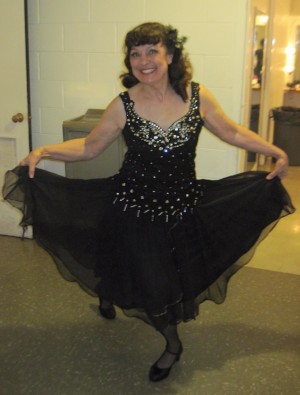 Annette Marsh | Artistic Director | Chief Operations Officer
Born into a family of artistic backgrounds, Annette was exposed to dancing from birth as her mother was a professional dancer. As a child Annette toured the State of Montana as part of a tap duo dance team. She has studied dance her entire life, and voice the last 15 years. Although tap is her specialty, she has studied ballet, Spanish, Irish and folk dancing. Some of her studies have been at Cornish School of Arts, Virginia Ballet and University of Washington. Tap instructors include Henry Bishop, Mickey Bailey, Tex Eddleman and most recently Larry Howard. Her style is enhanced by a variety of styles. As a member of Sweet Adelines, she toured Russia as part of a chorus performance tour in 1994. Her concentration is with community service and performance for Seniors and Veterans. She organized National Tap Dance Day at the Tandy Center in 1993 and 1994 and established an annual National Tap Dance Day Celebration in the HEB area in 1999. In her position as Artistic Director for Taps 'n Tunes, she has directed mini-concerts throughout the mid-cities area. Her love of singing and dancing is dedicated to musical comedy of the 1920's through 1960's.  Recently, the NorthEast Chamber of Commerce of Tarrant County honored her as a Home Town Hero for her volunteer service to the Community.